Tips and Techniques for Low-Light (Travel) Photography
I used to put away my camera when it gets too "dark" for hand-held images, e.g. after sunset. About 10 years ago, I started using a tripod. Since then, the single most important gear for my travel photography, beside the camera and lens, is a tripod. This enables the use of camera exposures of one second and longer, and the capture of beautiful colors in the sky, city illuminations and reflections.
Let's start with an example. The following image of the iconic Oia village in Santorini Island was taken shortly after sunset. This beautiful place is filled with tourists who come for the sunset view and leave right after that; missing out on even more dramatic views that follows the sunset as the village is illuminated and the setting sun imparts its last lights in the sky. This image was featured in Nat Geo Traveler's Your Shot: Golden Hour.
Oia Village at Dusk, Santorini Island, Greece (Canon 5D, 73mm, 8s, f/8, ISO 200)
Oia at DuskThe picturesque Oia village is located on a sheer cliff on the northern tip of the volcanic Santorini island in Greece. It is famous for its sunset views.

This image was featured in Nat Geo Traveler's Your Shot: Golden Hour.
Following are some tips and techniques for capturing beautiful travel images during that magical part of the evening.
The techniques involved are relatively simple; the practice requires patience, time scouting the location and waiting for the "right" light. Be familiar with your camera equipment and be prepared ahead of time.
Safety first: research and look around the area. Trust your instincts; it is not worth putting yourself in a dodgy dark place, particularly if you are alone. Be respectful of security officers, particularly around sensitive areas. For example, using a tripod near the Houses of Parliament in London will draw the attention of police officers; this has improved recently but could change again.
Comfort: Depending on the time of year and location, it can get cold and windy after sunset. I usually bring a light jacket, gloves, and a small flashlight, especially in Europe. And some snacks and water, but don't drink too much before sunset or you could end up spending your time looking for a comfort break just when the lighting is great…
Research: read guidebooks; go online to learn the location, orientation of landmarks. Look at post-cards for ideas. Know the sunrise and sunset times.
Be Patient: You should arrive at the location some time before the sunset to capture the sunset and subsequent twilight period. Then set up the camera equipment and wait for the right lighting.
Camera equipment: A tripod or some other means to support the camera in a stable manner is most crucial to get the sharpest pictures. For travel photography, a carbon-fiber tripod is lighter weight though it is more expensive. The other key accessory is a cable or remote release to avoid any camera movement during long exposure; the alternative is to use the camera self-timer. A custom L-bracket and a ball head are useful to facilitate movement from landscape to portrait orientation, and for capturing overlapping pictures necessary for subsequent stitching to make panoramic pictures. Generally I remove all lens filters unless I intentionally want to use much longer exposures, perhaps to capture fleeting clouds, silky smooth water surfaces. A polarizer will typically reduce exposure by 2 stops; for greater stops reduction, I'd reach for a 6-stop ND filter. Switch off any lens stabilization while the camera is on a tripod. Use a lens hood to minimize flaring from nearby lights. I also keep the battery charged up the night before. Check the battery level if you have been shooting a lot during the day time. Twilight and night photography requires long exposure that will drain the battery. Better yet, get extra batteries.
Camera settings: Generally, I shoot in Aperture Priority mode with the following typical settings – ISO: 100 – 200; aperture: f/8 – f/11. The shutter speed is determined by the camera. Check the histogram after exposure and adjust the exposure compensation accordingly. I also use the Noise Reduction option to get cleaner images.
RAW: I tend to use RAW and small JPEG capture. Capturing in RAW format will allow more post-processing options including correction of the white balance, especially in mixed florescent and incandescent lighting in cities.
Some modern DSLRs are capable of capturing low-light images at high ISOs (>6,400). Some prefer to use high ISOs in conjunction with image stabilization to capture low-light images. My preference, however, is to use a lower ISO and longer shutter speed with a tripod where possible to get the cleanest possible image. It is a matter of personal choice, not right or wrong.
I hope you find these tips useful. Paraphrasing Captain Barbossa in the Pirates of the Caribbean movie "… these are more what you'd call "guidelines" than actual rules."
Happy traveling and photographing.
A couple more examples to close out.
Rio de Janeiro at Dusk, Brazil (Canon 5D, 24mm, 3s, f/8, ISO 200)
This was featured by Nat Geo Traveler tumblr site leading up to the World Cup.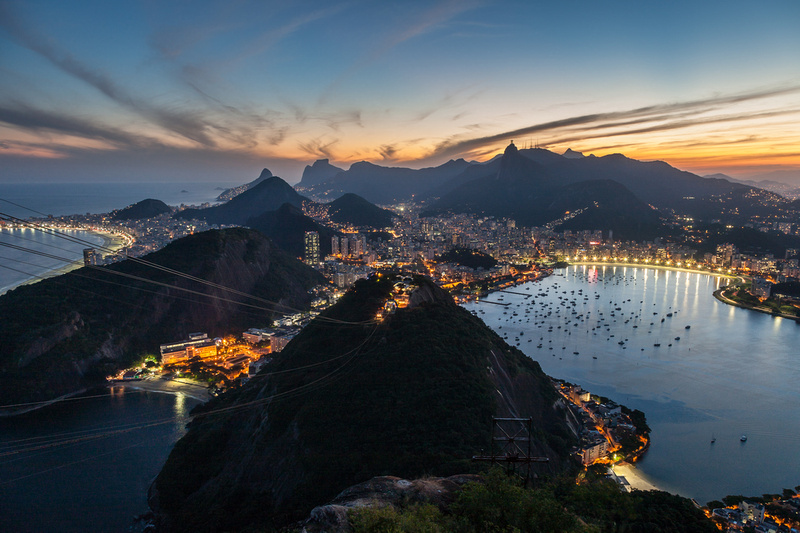 Rio at DuskWide angle view from Sugar Loaf. The outline of the city area is clearly defined by the artificial lights.

This image is also part of NationalGeographicStock.com (Picture ID: 1433700).
US Capitol at Twilight (Fujifilm X-E1, 29mm, 28s, f/13, ISO 200)
US Capitol at NightView of the illuminated U.S. Capitol building with colorful sky and reflections. Use of a long camera exposure to accentuate cloud movements.

This image was featured on National Geographic online article on 7-Feb-2018.